Mi Ancestors-mixed mediums-nappy head art-robert daniels
This painting is a part of " The Ancestor" series The figures in this grouping are rigidly depicted as was the way they were seated on their way to the new world or the so called 'new world 'with new names and new jewelry.They would be called "slaves", and the new ornaments were chains and shackles. These proud people were uprooted from their homelands and packed like cargo, row by row, into a ships bow, and transplanted to the Americas .These people are the original ones, the first ; the imortals. They shall never die in my heart. These are "The Ancestors".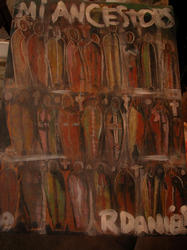 About Saving In Gas Money
As someone always low in funds, I've learned a few things about saving money on gas: First, make sure you service your car regularly. If your engine isn't working properly, you're losing money on gas. Also, if your tires aren't aligned or filled with the proper amount of air, then you aren't getting optimal gas mileage. Another reason why your car may be guzzling gas is your driving habits. Do you speed? Go to drive-throughs instead of going inside? Run your AC at all times? Constantly run errands? A little planning can save you gas--do all of your errands at one time, and don't do them during busy driving times, where you may idle at stoplights for a larger amount of time.
Robert daniels

e mail address
drednappy@yahoo.com