The painting on your right is titled " Predators ", 24x36...mixed media....2007 completed
Please, join in the sharing of this quote from Bachelard in 1991, when he stated "the hand has its dream, too, and its own hypothesis. It helps us to come to know matter in its secret, inward parts. Much African art articulates the unknowable, the invisible, and the unsayable. It is a picturing of the imagination--an "imaginal world" that hovers "halfway between the world of sensible perception and the world of intelligiblility" (Tedlock -1992 ).
"The spirit of the dream" -inspirations


Many forms in African art are inspired through dreams. A spirit may dictate the shape of belief through a revelatory dream, and exhort the dreamer to commission a figure from a sculptor upon awaking.. Although cross-cultural studies have shown the extent to which dreams guide and inform lived experiences, little attention has been paid to dreams and dreaming in African art(as well as African-American art). Dreams are a calling from the otherworld, and can be facilitate direct contact with that world." The twilight junction ",is a poetic name given to this mediatational state of being including dreams, the experience of being in a trance, possession, and other preformance modes such as divination(when spirits are summoned to particcpate in human activities.
Robert "Bob" Daniels was born and educated in the city of Mount Vernon, New York. While in high school, he won many awards for both art and athletics.as a high school senior, he was selected to participate in a national track and field competition in Sacramento, California. this was his first real trip away from home.Sports gave Bob the opportunity to travel extensively and to also study art in new places. He visited Mexico, Central America, and Eastern Europe. In Paris, he met some fellow artist and ended up with a six month opportunity to study art at the Louvre. Upon his return to New York, Bob begin to work in East Harlem "El Barrio" New York. He has retired from the Dept. of Education in New York City after 37 years in the education field.
Robert is currently living in New York City and has an art business known as " Nappy Head Art ". He is dedicated to the fact that " if you work hard enough, you can make it happen ", so, he is working towards making art his second career. Robert is a member of several art organization, notably, the Weusi Collection, The National Conference of Artist, The Dedicators, and The Urban Individualist.
Bob gives God the glory and praise, as his abilities to create are all due to his Lord and holy father. He thanks his mother and father for bringing him into this world and giving him the earthly tools to survive. Robert has three children and a grandson.
Art is continuing to change forms. As it does, it expands the consciousness and perspectives of people through imagery. Artist are given the ability to create visual and non-visual images. This opportunity brings a concept to the populace using different mediums and methologies that best make art "talk", to the public, This universal language intergrates cultures and breaks down stereotypical ideology
As you look at Nappy Head Art, you are looking at the stories and visions of an Urban Scientist. A man driven , compelled to paint, draw, create art through whatever means , using whatever materials available. There are no conventional rules, I use the methods and materials as the spirit flows. This is my " special gift ". We each have been given a task in this life. I will never be perfect, but I strive for excellence. This is what I do, so please enjoy your journey through this site. Robert daniels

Look for the Natural Forces website , coming soon to 50 megs


I was looking at something but didn't see it because of all the things I did see. Don't take anything for granted.
copyright of Nappy Head Art-Robert daniels- all rights reserved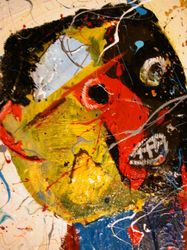 Predators- spiritual personas

If the blues would let me , lord knows i would smile. If the blues would let me,I would smie,smile, smile.Instead of that I'm cryin-I must be Miss Blue'es child. This is the beginning of Langston Hughes"Miss Blues'es Child. You can read the entire piece by going to your friendly librarian and asking that individual to help you find Mr. Hughes works.